The Maryland Miracle House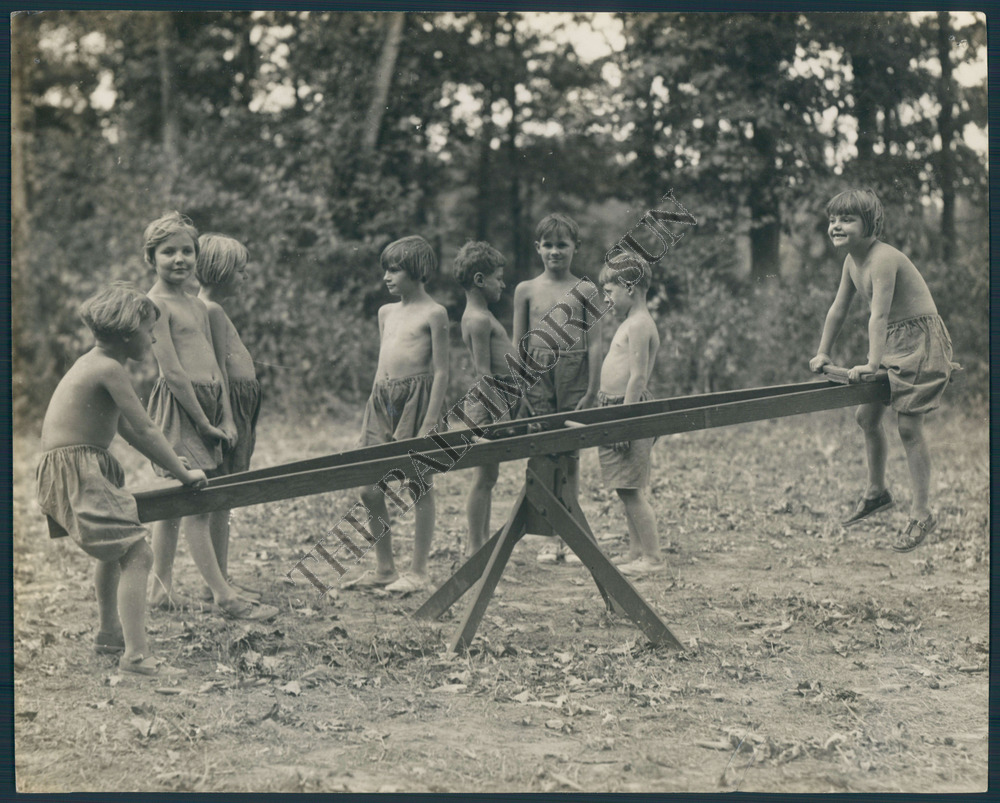 AEP-454-BS Miracle House, Children Playing Games
1931 - Photograph by The Hughes Co.
I love photos with a story. When I came across this unique photo of children on a teeter-totter I had to take a few moments to research the story behind the photo.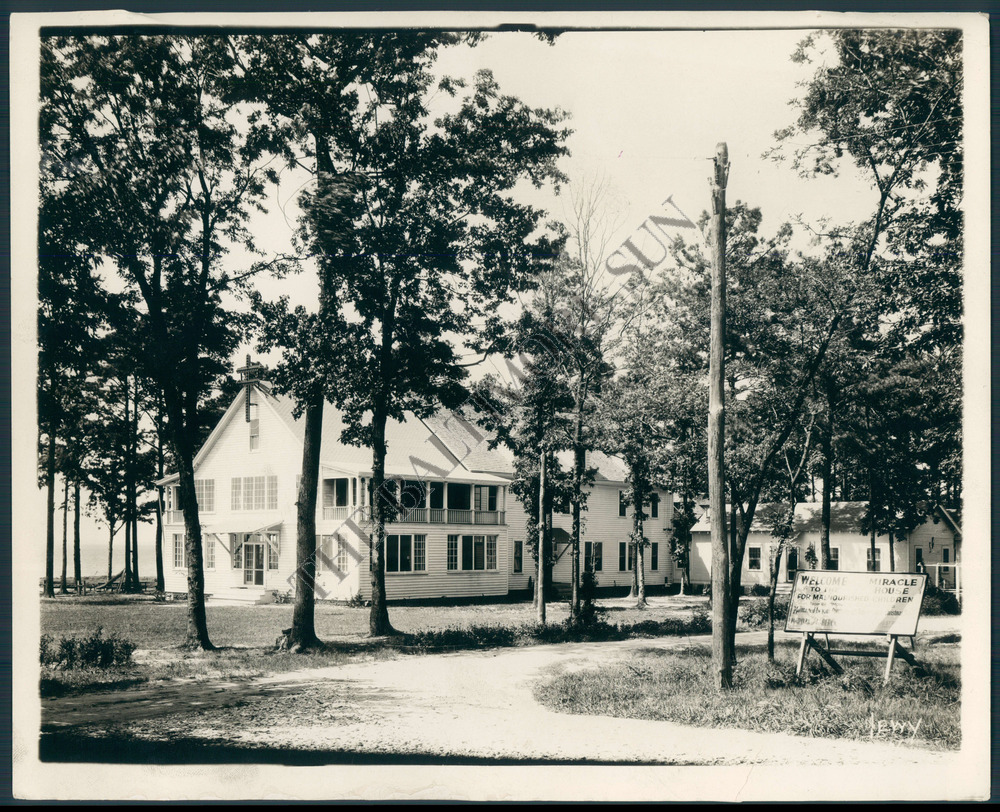 AEP-446-BS Miracle House - 1927
In 1913 the Claiborne Fresh Air Association, Inc. was formed in Claiborne, a small township on the eastern shore of the Chesapeake Bay near the mouth of the Eastern Bay in Talbot County, Maryland and the "Miracle House" was established.
The purpose of Miracle House was to provide 10 weeks of fresh air and summer vacation for children who had been exposed by their sick parents to tuberculosis. It was considered a "preventorium"with a goal to help children that had been exposed to tuberculosis build up their resistance to TB through fresh air, nutritious food and swimming in the Bay. The facility was bought and expanded by the Maryland Tuberculosis Association (MTA) in 1919 and operated until it was closed in 1944 after the TB vaccine was developed. The 10 week stay at Miracle House was free to children and while being run by the MTA was funded by Christmas Seals. At it's height, the facility could house up to 200 children. Food for the children was prepared by residents of Claiborne and Tilghman.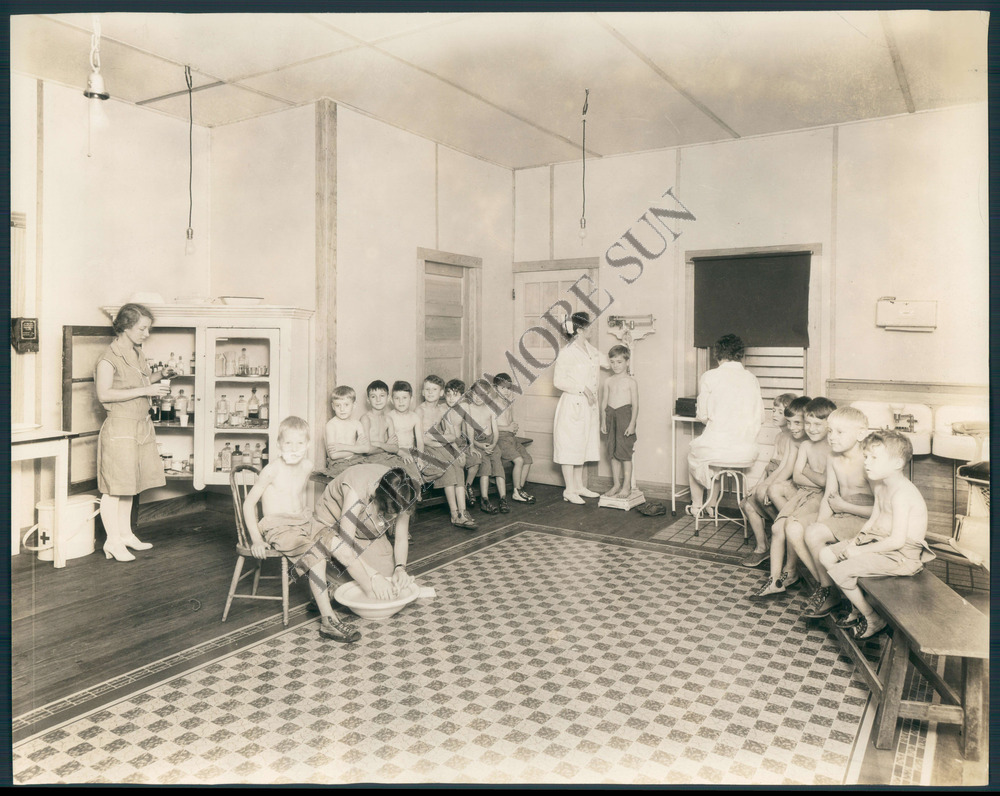 AEP-445-BS Miracle House, Friday is Weigh Day
1929 - Photograph by The Hughes Co.
According to the 1915 Eight Biennial Report of the Board of State Aid and Charities to the Governor and The General Assembly of Maryland, "This is a small institution for giving summer vacations to children frequently with their mothers, who are in need of the same. It was open last year for 10 weeks; had an average population of 48 and gave an outing to 321 persons. It is supported largely by the Eastern Shore contributions and is the result of the work of a group of women on the Eastern Shore who have become intensely interested in this problem. While this institution is doing a very lovely work, the board does not feel that the State should pick out some two or three hundred children and give them a free vacation. It applies for $1,000 for each of the next two years. We therefore recommend that this appropriation be not allowed."
AEP-450-BS Miracle House, Sun Bathing Required
1934 - Sold
While at Miracle House, the children's uniform consisted solely of khaki shorts. All that was required for the children to bring was a pair of tennis shoes. In a 1962 Baltimore Sun article about Miracle House, former summer counselor and property owner Mindelle Moon wrote, "Shorts were the only 'costume' worn by the children, and by the end of the summer each child not only had a beautiful tan but had gained so much weight that larger shorts were needed.
These original photos seen here, and many more, are available (at the time this was published). Contact us
here
or call to check availability.
More information can be found in this 1962 article by the Baltimore Sun, "
I Remember...Maryland's Miracle House
", and in this 2008 article by The Star Democrat, "
Claiborne Property Helped Kids At Risk For TB
"
AEP-449-BS Miracle House, Dinner Time
1929 - Photograph by The Hughes Co. - Sold
AEP-447-BS Miracle House
1933 - Photograph by The Hughes Co.
Land Platt from the State of Maryland Archives